In 2015 I had created a giant model of the Javits Center that is on public display inside the real building.  Now, to commemorate an expansion of the facility, I created this miniature model that was given out as executive gifts at their groundbreaking ceremony.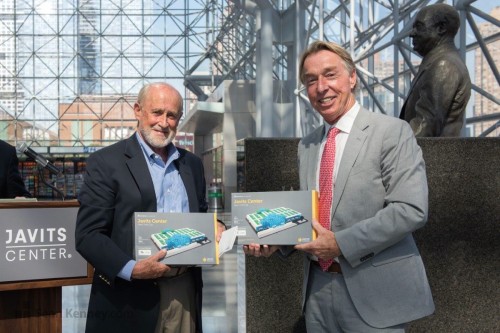 The 364-piece model was packaged as a build-it-yourself kit with a booklet of building instructions and information about the architecture of the real Javits Center and Jacob Javits himself.
Designing it
Designing the model was a very iterative process.  It is one thing to simply design a model; it's another thing altogether to design a model that someone else will have to build, and will enjoy building, and that can be handled and moved around without breaking.
I created many, many copies of the building in order to get the building experience just-right.  Then I had to deconstruct the model piece-by-piece and begin the process of documenting it and creating building instructions.
Together with my assistants Jisun and David, we created building instructions and custom packaging over the course of 2 months, and then my staff and I manually collated the parts together into bags and into boxes.
The 40-page booklet was hand-illustrated and tested numerous times to make sure that it could be built by big kids that haven't done this in a while. ;)