Greenwich Village, New York
This model of Greenwich Village, built with nearly 50,000 LEGO pieces, is inspired by the bustle of the famed trendy historic district of New York City.

Built over the course of 6 months, the model contains 18 detailed buildings and scores of New Yorkish details... from taxicabs and tourists to parking meters and authentic signage.
Details
The model doesn't attempt to replicate any particular place or any specific buildings; The goal was to imitate the feel of the atmosphere, the clutter, and the bustle of this bohemian part of Manhattan.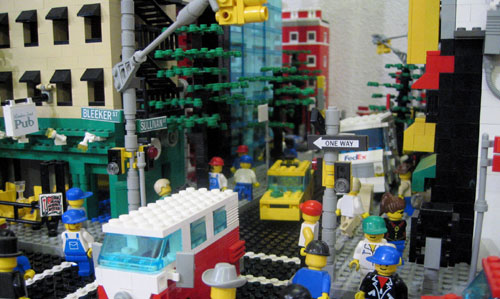 Street life
At crosswalks, LEGO citizens pause at "don't walk" signs with toes down to the pavement, waiting for a gap in traffic large to cross through. Workers load packages into a metal door opened up from the sidewalk. A tourist looks up and pauses to snap a photo, obstructing pedestrian flow on a busy sidewalk. A turning car tries to squeeze through a line of pedestrians crossing a busy avenue. Standpipes, subway grates, parking meters... the more you look, the more there is to see!
CLICK TO ENLARGE: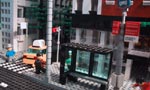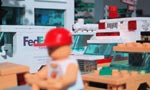 The Village
To replicate the effect that real Greenwich Village is a neighborhood where buildings are charming, not imposing, Sean built the upper floors of the buildings in a smaller-than-possible scale, too short for even a LEGO mini-figure to stand. Taking a page from Disney World's "Main Street USA" where buildings are built to 7/8 scale, this gives the structures a "quaint" feeling, while still looking realistic.
There are no skyscrapers in this part of New York, and large parts of "The Village" are Historic Districts comprised of small, old, beautiful buildings with lots of character. The neigborhood is always bustling with hundreds of places to eat, an active night life, quirky shops, and lots of charming narrow streets serviced by wide, busy avenues.
CLICK TO ENLARGE: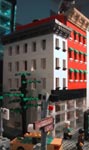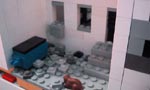 Buildings
CLICK TO ENLARGE
Murray's Bagels
Named after Sean's favorite New York City bagel place, this little red walkup building has a seperate entrance for the apartments above. Fun details include window air conditioners, venetian blinds, window shades with pullstrings, and a personal satellite dish on the roof.
Starbucks
Alas, New York City cannot go 4 blocks without a Starbucks, and a LEGO New York is no exception. Actually located inside one of the buildings in this Greenwich Village model, this Starbucks has all the amenities needed for a quick but costly caffiene recharge.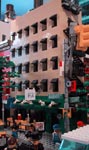 Random Irish Pub
This tavern was inspired by one of Sean's favorite Irish pubs, "Fiddlesticks", on Greenwich Street in the West Village. In the model, the front of the pub opens up on nice days, and tables are set up on the sidewalk. Above the tavern is a few floors of apartments, serviced by some fire escapes on the side of the building.
Residential street
This residental street contains several different turn-of-the-century walkup townhouses. Note the
stone stairways and ironworking
, and the unique cornices. The street is also tightly lined with trees, with narrower sidewalks; this is common on many of quieter side streets of the city. (If any part of Manhattan can be considered quiet.)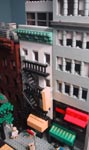 Old building with modern addition
This is an early 1900's city walkup that has received a more modern-looking extra floor on the top. The lower section of the building still has fire escapes, and there's a Chinese restaurant at street level.
Brickfaced "federal" style townhome
A brick facade was simulated by using 3 different shades of red LEGO elements. This small townhome would date back to the early 1800s, and is is squeezed between a tall glass mid-rise and a late 1960s apartment block.
Joined buildings
These are two old buildings on a busy street that were eventually bought by the same landlord so that a large avenue-facing retail space could be created. The walls on the ground floor were replaced with plate glass, and the old rear and side windows of the white building were bricked up.
Brownstone
The age of this brownstone is evident in its old chimneys that were used for fireplace heat, long ago. It has since been updated with a central air conditioning system, located on the roof. The building is 2 lots wide and, as is common with such buildings, has two seperate entrances serving each half of the building.
Pre-war elevator building
This ornate building has two retail floors downstairs, and offices on the upper floors. The roof is loaded with gizmos: A central air conditioning unit, cell towers, a water tower, etc. The building also has an under-sidewalk loading bay and a garage on its side.
Parking lot
This is a typical Manhattan parking lot, where the attendants jam as many cars onto the pavement as possible. In the back are lifts that raise cars up high enough to park another underneath, which are very common throughout New York City. (Many people not native to New York often find these to be the most ridiculous looking invention ever.)
More pictures
Want to see even more?
There's so much to show, it doesnt fit on one web page! You can see over 75 additional photos (including details of individual buildings, behind-the-scenes construction, and more) at a
gallery on brickshelf.com
.