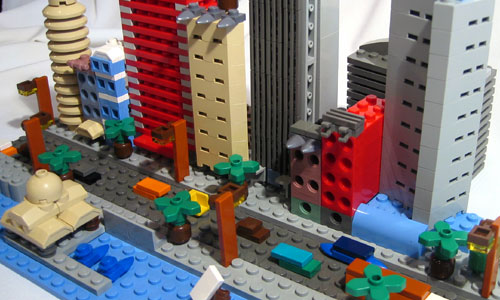 In October 2004, Toys R Us briefly sold a tub of LEGO elements that contained a box full of "bonus elements". The "bonus" consisted of 500 random, funky colored, funky shaped parts -- so I bought four of them.
With 2000 funky parts spread out in front of me, I thought it would be fun to see what I could make.
In addition to this small city scene, I also built
Duck McQuacken, SUPERFOWL
, and a vignette I call
Shanghai home
.
After these models (and a few others) I still only ended up using a tenth pieces. :)


Those little blue things in the marina are supposed to be jetskis.



The round building was inspired by Chicago's "Marina City", built in the late 50s.

The shorter buildings are turn-of-the-century New York City walkups. The large red building reminds me of 7 WTC, built in the 1980s.

The tall dark grey building is done in the International style, popular in the 1960s and 1970s.

I imagine the light grey building on the right is a aluminum or steel facaded hotel.