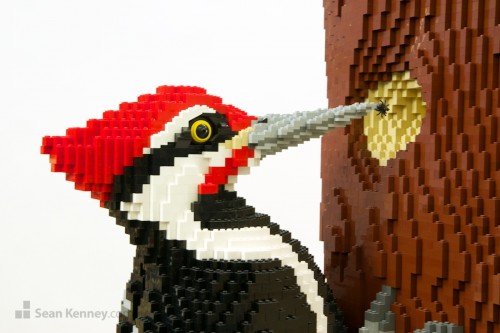 A few years ago I made a smaller, life-sized sculpture of a Pileated Woodpecker, which was designed to hang on a real tree outside.  Unfortunately, it was too small (and often too high up) to be easily noticed outdoors, which made the sculpture less impressive than I'd hoped it could be.
I took the opportunity to make a new, larger version of this woodpecker.  This one is "double life-size" (about 30 inches tall), situated on a 6-foot-tall tree trunk.  It contains 22,671 LEGO pieces and took about 300 hours to design and build.
There's even a tiny bug caught at the tip of its beak!
Come visit! This sculpture is part of Nature Connects, my award-winning, record-breaking exhibit of sculptures built with LEGO bricks, currently touring the U.S., Canada, Europe, and Asia.  Read more and come visit!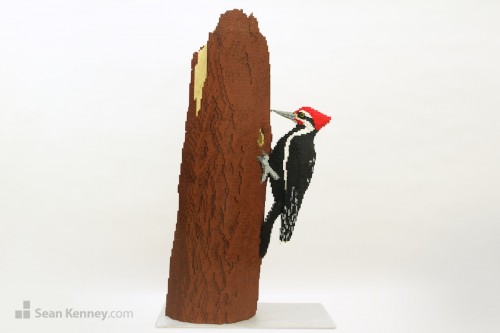 The sculpture was designed and built by my assistants Natsuki (left) and Luis (right).