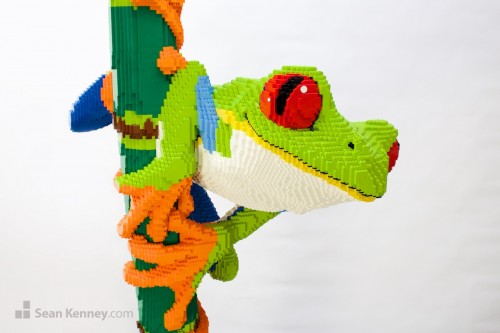 This Tree Frog sculpture is over 8.5 feet tall and contains over 47,000 LEGO pieces.
Tree frogs are normally so tiny… I enlarged this creature to a giant size and brought its face to adult line-of-sight so viewers could look the tree frog right in the eyes.  These creatures are so cute and so wonderfully colorful; it seemed like the perfect subject matter to be created with LEGO pieces.
I love creating sculptures that look delicate and impossibly balanced, as if held up by magic.  The goal is for that magical balance makes you forget that the creature isn't really alive and holding itself up that way itself.
It's big!  Here's how we got it into a truck outside my Brooklyn Studio…
The sculpture took over 3.5 months to design and construct together with my assistants Meghan and Geoffrey (below).